Castello di Semivicoli
The Castello di Semivicoli is a very unique wedding location situated perfectly between the mountains and the sea in the heart of Abruzzo, in fact in the heart of Italy. The Castello is perched on a hilltop within the small hamlet of Semivicoli offering panoramic views in every direction.
As a wedding location the Castello di Semivicoli can be used to host not only a Catholic wedding ceremony in the church next door but also a symbolic ceremony inside the castello or outside in the beautiful grounds.
Not only that the Castello can also offer accommodation for the bride and groom and their guests.
The wedding photography often starts with the preparations of the bride in the very special bridal suite. The bridal suite, the 'granaio' is a stunning room, beautifully coordinated with the prefect mixture of new and old the room makes a wonderful backdrop for the wedding photography.
The views extend in every direction whether it is of the vineyards, the mountains or the sea.
I love the preparation photographs on a wedding day, they really bring together the excitement of the day ahead and the anticipation of all that planning coming together at last.
Whether the bride is preparing quietly with her bridesmaids or whether the room is full of hustle and bustle the emotion is always evident.
The wedding ceremony itself can be held in either the Catholic church next door, the local town hall or in one of the two gardens in the Castello.
And then afterwards you have the chance to celebrate your wedding in this fantastic location!
The gardens are a virbrant colourful space to enjoy the views and to mingle with friends and family.
The wedding breakfast can be taken in a variety of locations whether you wish to dine inside under the vaulted ceilings,
or outside under the stars!
The opportunities for photography within the grounds are endless, one of my favorite vistas is of the mountains as the sun begins to set.
But then how does that compare to the beautiful light within the grapevines.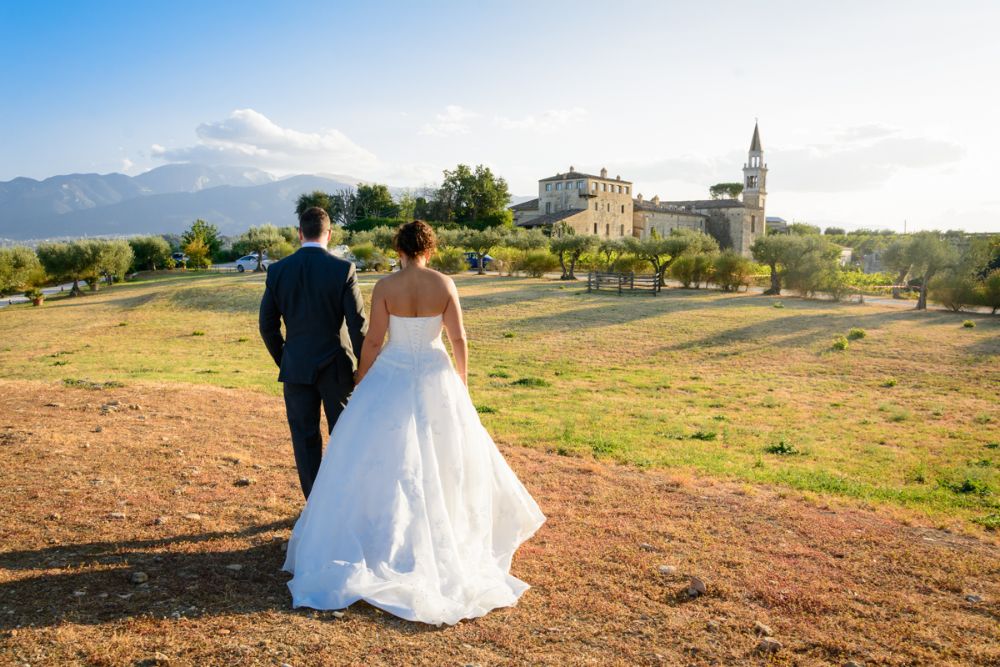 Or even the rolling green hills of Abruzzo?
Equally indoors offers so many different choices to photograph.
The rooms within the Castello has been preserved with such care you can really feel the atmosphere of the Castello from another time.
After the wedding breakfast the scene is set for the first dance,
and then the cutting of the cake.
And finally a chance to pass the evening in style in the secret garden.
If this has inspired you to find out more about the Castello di Semivicoli then
follow this link
for more details.